Old comics give Thor new life in "Thor: Ragnarok"
"Thor: Ragnarok" diverged in style from the first two Thor movies, giving the character and his place in the MCU (the Marvel cinematic universe) the revitalization he needed. It was clear from the trailer that this was going to be a different Thor movie, but in some ways it looked too similar to "Guardians of the Galaxy." Thankfully, the full movie definitely stands on its own well in style and is notably different from other MCU movies. The movie pulls its style more from the comics and the director, Taika Waititi, who also brings a new sense of comedy to the story.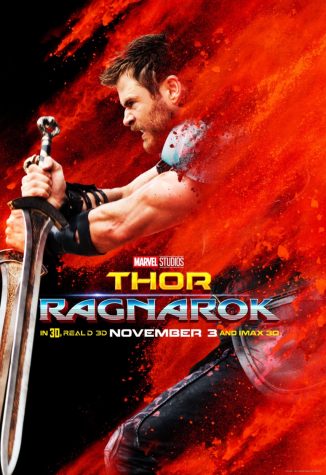 The most notable influence was comic creator Jack Kirby, with Kevin Feige, the President of Marvel, stating "Thor Ragnarok is an unabashed love letter to [Jack Kirby's] vision." Kirby was known to take a dramatic approach in is drawings, using dynamic lighting, composition, and action; his panels were always full. This style can be seen throughout the movie, especially on the planet Sakaar. "That was really a Jack Kirby influence," said Production Designer Dan Hennah about Sakaar, "and Mayes Rubio—who's costume designer—took the ball we had and ran with it as well, so we sort of were on the same page from day one in terms of the Sakaaran look; the people, the concept of Sakaar."
Many of the departments for the film cited comic creators as inspiration. Visual effects supervisor Jake Morrison told IGN that Kirby's dense style influenced the VFX in Ragnarok, especially in the sky. The "Kirby Krackle" is also clearly present in many of the movie posters. Producer Brad Winderbaum has also cited Jason Aaron, the current Thor author, and Walt Simonson, an iconic 80's Thor creator, as major influences. Although there are no direct parallels in the plot of the movie and the Ragnarok comics, there are some character influences. One of the biggest influences was Jason Aaron's character, Gorr, who was a major influence for Hela, the movie's villain. Hela even directly quotes Gorr in one of the movie's most iconic moments pulling the line, "What are you the god of?" from Aaron's comics.
Outside of the comics, director Taika Waititi, brings his own flair to the film. The New Zealand native is known for his comedy, which he brings to Thor, something the character definitely benefited from. Thor has often played second fiddle to Iron Man and Captain America, but "Thor: Ragnarok" has made Thor a fun character again. Overall, "Thor: Ragnarok" did more than just tie audiences over until the new Avengers movie with its use of humor and color but also breathed new life into the character.
Leave a Comment
Donate to The Lambert Post
Your donation will help support The Lambert Post, Lambert High Schools student-run newspaper! Your contribution will allow us to purchase equipment and cover website hosting costs.