Season 3, We Want to See!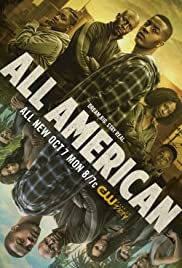 On October 1st of 2018, the show All American was aired for the first time on CW. It was not until March 24th, 2020 that the show was released on Netflix. The show was one of the top 10 recommended for months after it made it debut on Netflix.
All American is a teen drama that gives an insight into what high school students experience every day. It shows a boy, Spencer James, beginning in a small town known as Crenshaw and choosing to go to a different high school in Beverly Hills to be successful in his football career. He makes new friends and discovers what the rich life has to offer. 
The show also reveals other characters that go through teenage drug use and drinking, football games, relationships, and family issues. Season one grabbed the attention of millions of people in the U.S leaving watchers wanting more. 
Many students, especially in Forsyth County, can relate to some of the things going on in the show. There was plenty of talk about the show in the county for a long time, soon after it made its appearance on Netflix.  
The third season of the show is scheduled to premiere for the first time in January 2021. The film production industry has been running slowly due to the pandemic. Fans were expecting the third season to be out in October, which is the normal time for release. 
"Fans can expect season three to pick up where season two left off: Spencer's loyalties will come into question—yet again—after learning that his former high school might become a magnet school. Jordan is also prepared to take major steps in his personal life, while Olivia is attempting to sort out her sobriety issues," says Adrianna Freedman's article.
Shortly after being released, All American grew vastly in ratings. People are dying to see the third season after being left on a cliffhanger in season two. Hopefully, this season is what the viewers have been expecting, especially with the long wait.
Leave a Comment
Donate to The Lambert Post
Your donation will help support The Lambert Post, Lambert High Schools student-run newspaper! Your contribution will allow us to purchase equipment and cover website hosting costs.