Ticketmaster Is Under Scrutiny and No One Is Handling It Beautifully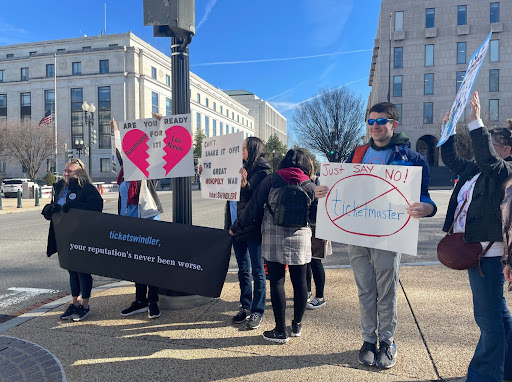 In October, Taylor Swift released her tenth album, "Midnights" and her long-awaited "The Eras Tour," was announced soon after. The tour caught the attention of almost 14 million people (including scalpers and bots) logging on to Ticketmaster to buy their tickets. There were three stages to buying tickets: Verified Fans, Capital One and the general sale.
Verified Fans had to register weeks in advance, and once "verified" by Ticketmaster, would be sent a confirmation email and codes to access the presale tickets. As the tour is sponsored by Capital One, the second round of presale was only available for those who had Capital One credit cards. On November 17, the general sale was canceled due to overwhelming demand.
Even though Ticketmaster assured Swift that they would be able to handle the demand, Swiftes around the country faced crashes and long queues on the Ticketmaster platform. Many people waited in queues for hours, but never got tickets or bought tickets, but instead were kicked out of the site.  
The incredible amount of traffic on the site was because in addition to the many verified fans, people who did not register for presale were also trying to get tickets. There was also a record amount of scalpers and bots, which made registered users experience that much more miserable when trying to buy tickets. 
Scalpers are people who purchase tickets to resell on an alternate site at a much higher price. Bots like these can complete the process much faster than humans and can buy thousands of tickets before anyone even buys their first one.
This huge amount of traffic was also what crashed the Ticketmaster site, making thousands of registered users deal with constant crashes and glitches.
The prices were also incredibly expensive, ranging from $100 to almost $95,000 in the resales market after the general sale was canceled. The prices have since cooled, and in Georgia, the most expensive tickets seem to cap at $10,000.
This was such a problem across the United States that the Department of Justice ended up getting involved in investigating Ticketmaster's parent company, Live Nation Entertainment, in late November.
The reason that the Department of Justice took notice of the debacle was because in 2010, Live Nation and Ticketmaster merged, creating a monopoly. 
Live Nation used to work in event promotion and Ticketmaster used to just be a ticket sales company. But once they merged, they became almost 75% of the live entertainment industry: promoting ticket sales, operating entertainment venues, and managing contacts with music artists. 
These two companies didn't just merge without any interference however. The DOJ held a hearing to approve the merger and had them sign a contract that they could not punish venues that signed contracts to other venues and they must sell some of their software to competitors. This contract has been extended to 2025.
This monopoly in the market made the DOJ pay attention to what Ticketmaster was doing and it wasn't good. They had consistent allegations of violations of antitrust laws, hidden fees, as well hundreds of deaths and injuries.
Antitrust laws are rules ensuring that markets aren't dominated by a single company, barring companies from price fixing and prohibits meters that may create a monopoly. 
However, as Live Nation Entertainment, Ticketmaster's parent company, has a 75% market share, they have a huge advantage over any other alternative company.
Lambert freshman Naina Agarwal, who managed to get tickets from the presales after waiting in the queue with almost 100,000 others, found that the DOJ hearing was the most interesting part of it.
"The senators quoting Taylor Swift lyrics during the hearing on January 24th was the most iconic thing about it honestly," Agarwal said. "Ticketmaster just created this monopoly where artists and regular people couldn't even buy tickets without going through them. They've done a bunch of violations with antitrust laws and those insane prices, so it's good they're being investigated."
This monopoly ensured that high-profile tours like the Eras would have to go through Ticketmaster if it wanted large enough venues for its concerts.
While there are alternatives such as SeatGeek, due to the large number of venue contracts that Ticketmaster has at its disposal, such as NFL stadiums, Ticketmaster can do whatever they like. It creates an unfair advantage in the ticket market that is a violation of antitrust laws.
This investigation into the company's monopoly over concert tickets has been ongoing since November. As other concerts have been announced, many people are looking for alternative ways to buy tickets and watch to make sure Ticketmaster is doing better than before.
As well as the DOJ investigation, almost 400 fans, who are mostly from Texas, have been protesting outside the U.S. Senate since late January and have also filed a lawsuit against Ticketmaster. Their court date is March 17th.As Ticketmaster is currently being investigated, its new strategy for high-profile concert tours has been to stagger tickets from city to city to make it easier for Ticketmaster's servers. It has also tried to redeem itself in December, by sending new codes to Taylor Swift fans for another chance to buy tickets.
Donate to The Lambert Post
Your donation will help support The Lambert Post, Lambert High Schools student-run newspaper! Your contribution will allow us to purchase equipment and cover website hosting costs.