Last week in Lambert sports: Week 4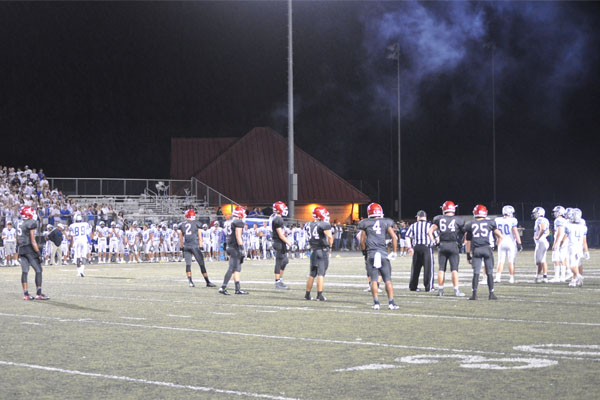 The week of August 28, 2017 had its fair share of exciting sports moments. While the number of games came to a halt, our Lambert's athletes did not let us down.
Softball: The Lambert softball team played a total of five games, giving their best effort in each one. In their first game the girls took on West Forsyth in what would have appeared to be a win for Lambert considering West had a losing record. However, West ending up scoring all their runs in the first inning and went silent on the scoreboard for the rest of the game. Lambert ended up losing 4-2. This was a surprising loss but the Lambert Girls held their heads high and proceeded forward onto Forsyth Central. Both teams came into this game with winning records. Statistically, this game looked to be a close game and indeed it was. Lambert came out early with two runs in the first inning and later scored an additional run in the third. The rest of the game turned out very slow as neither team added a run to the scoreboard resulting in a 3-0 win by Lambert. The next game for Lambert was going to be a tough won as they took on the undefeated East Coweta. The game was tied 1-1 up until the sixth inning but then East Coweta scored a fast three runs to finish of the game by winning 4-1. The last game Lambert played in was a thriller all the way to the end. They took on Chapel Hill, a team known for racking up a lot of runs. In the fourth inning, Chapel Hill struck first with three runs. Lambert quickly responded with three runs as well in just the next inning. The sixth inning remained scoreless with both teams pitchers putting on a monster of a show. Before the game could go into extra innings, Lambert scored a late run which gave them the win against Chapel Hill. Overall the Lambert Softball team ended the week 2-2 and with a winning record and winning region record.
Volleyball: This week was different for the girls as they only played three games. The first game had Lambert matched up against St. Francis. Lambert was expected to win this game and sure enough they did. In all three sets the Lambert dominated by holding the St. Francis to an average of 12 points in each set. The defense was the ultimate contributor in this 3-0 win. The next game was another game that was in favor of Lambert partly because their opponent Chattahoochee had a gruesome losing record. However, Chattahoochee took the first set with a score of 25-20 which was one of the very few times Lambert had ever given up the first set. The second set had Lambert winning 25-20 which setup for a great third and final set. Both teams came out early keeping the game close, but Lambert pulled away winning the set 25-10. The final score was 2-1 in favor of Lambert. The last game before a week of not participating in any games didn't pose a great threat to the unstoppable Lambert Volleyball team. They took on Cambridge in a non-conference game that would only have two sets. Cambridge gave up the first set losing 25-11 but came back in the second. The set was kept within one point the majority of the time but Lambert did pull away winning 29-27. Although this week was quite easy for the girls, three wins being added to the record doesn't hurt.
Football: Last Friday was USA night at Collins Hill. Students dressed out in their best patriotic outfits hoping to hype up our football team. The match-up leaned more in favor of Collins Hill mainly because they have a great defense and Lambert's offense has been off to a slow start. Lambert did rack in a field goal early on in the game but it wasn't enough to stop Collins Hill from scoring 24 points in the second and third quarter. While Lambert gave it all their all, they ended up losing 24-6 making them win-less on the season. Their next match-up against Cherokee will be an interesting one as both teams do not have a win this season. However, Lambert has scored significantly more points than them this season which should give them the edge.
There were many ups and downs this week but one thing is for sure, Lambert athletes always lay it all on the line. Next week will be a much slower week partly because the volleyball team won't be competing in as many games but that doesn't mean the week will be a let down.