A world of religions in one school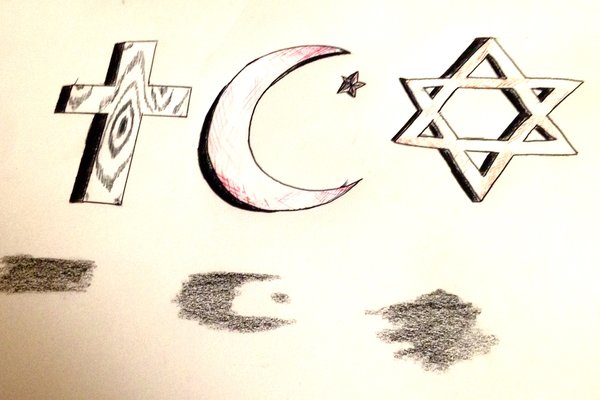 As a growing environment, in the midst of many different cultures, Lambert High School would not be the same without its different beliefs and diversities. Saqlain Awan, Hannah Patterson, and Shari Endo share their thoughts on the religion they practice.
Saqlain Awan voices his faith journey.
"I was born into my Muslim faith. Remembering God has kept me faithful through the years. I believe everybody has a different definition of being religious, but to me, a religious person is one that helps others and respects the earth, nature, and animals. In order to be religious, I try not to cause hardships for anyone. That's exactly how I would define my religion; it's worshipping God and respecting everyone around you. Religion does play an important role in my life. It has taught me how to be human; I would not be as humane as I am today if it were not for my belief. I have respect for nature and other living things. I would not be as respectful as I am if it weren't for my faith. I personally do not feel like it is difficult to practice Islam at Lambert, or in Forsyth County. It is not hard for me to go to a mosque and worship. However, my religion is constantly antagonized. Radicalism ruins righteousness."
Hannah Patterson speaks of her belief.
"I was born into Christianity. The community I have found a place in, as well as the people I am constantly around are my source of encouragement. I go to Passion City Church and I just love the atmosphere, the people, and the messages. Hearing the word is another way I really have remained faithful. Being religious in my opinion is following the rules of the religion. But then again, the cool thing about Christianity is that it is not technically religious; it is more of a relationship. You can have a relationship with God, and also keep His commands, but appreciate Him more than the term 'religion'. My belief has absolutely played an important role in my life. Being a Christian inspires me to love others well and be the best version of myself. It keeps me positive, even when worldly situations are not going my way. I know God has a bigger and better purpose. I do not feel like it is challenging to practice my religion at Lambert, or in Forsyth Country. Even though our school is super diverse, I feel like I have found a good Christian community that has held me accountable and also helps me grow in my faith."
Shari Endo discusses her Jewish faith.
"I was born into Judaism. Having a firm belief in the system has kept me faithful. Growing up in a very Jewish town has had a lasting effect on my life. Since I grew up rooted in my religion, I wanted to continue and carry my belief into adulthood. Religion to me is just a grounding force; it allows me to have spiritual guidance. I am able to believe in a system. Being religious does not separate me from anyone else's beliefs, though. Being Jewish bring me peace and connects me to my children and family. My childhood is defined by my religion because I attended Jewish Federation camp and temple youth group. All of my summer experiences were shaped around that. I loved being apart of my youth group, and that is a huge reason why Judaism has played an important role in my life. Being president of my chapter for two years gave me lasting friendships, all rooted in my religious experiences. I do not think it is difficult to practice my religion at Lambert, but it does set me apart. Where I live now is very different from where I grew up. In the town where I was raised, 70% of all residents were Jewish. Everyone had Jewish holidays off, and where I live now, not many people acknowledge my religious holidays.  I grew up thinking the whole world was Jewish. There was a time when I questioned my mom, 'What do you mean not everybody is Jewish?'. Judaism is a super cultural practice. It has kept me grounded and connected to my loved ones."
Lambert hosts an array of religions among the student population. A survey of Lambert students revealed that, aside from Islam, Christianity, and Judaism, there is also a large presence of Hinduism and Agnosticism in the school. The majority of people that participated in the study have been born into their religious belief; however, there are some who have converted into Christianity from Buddhism and Hinduism, and few that have become agnostic. Most claim that God and family have kept them authentic in their faith. Those who do not practice a religion, or do not believe in a God support their reasoning with logic and science. However, there are some who simply do not believe in a higher being or afterlife. There are also some that ponder religion as man-made, but also consider life too bizarre to rely solely on science. One response from the survey titled themselves as an "Atheist with an imagination," elaborating on their understanding of the importance of respecting the beliefs of others. Although there is a vast range of culture and different beliefs in Forsyth County and Lambert, most responses declared that it is not difficult to practice their religion in the community.
It is important to acknowledge the passion beautifully worded in some responses. The survey entailed thought-provoking questions, such as, "What has kept you faithful in your belief?". One reply illustrated their remarkable testimony while sharing their reasoning for their faith in Jesus. "Our God is massive, yet intricate. He is a star breather, yet with that same breath He created each and every cell in out brittle little bodies." More answers credited their family and friends for holding them accountable in their faith.
Religion does play an important role in the lives of many students. Community is able to be found outside of the halls of Lambert. With different forms of religious associations, youth groups, and places of worship, teenagers are able to submerge themselves in their faith, and allow their worries of earthly problems to fade away.
Leave a Comment
Donate to The Lambert Post
Your donation will help support The Lambert Post, Lambert High Schools student-run newspaper! Your contribution will allow us to purchase equipment and cover website hosting costs.