Back to School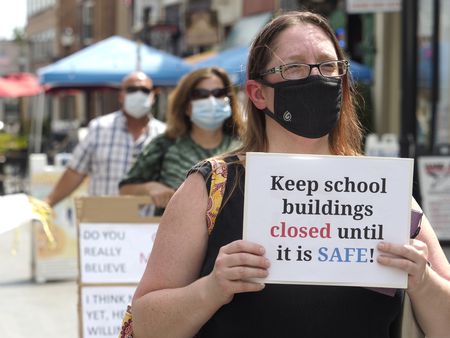 The controversy surrounding students returning to school is thriving as some states welcome back children to fluorescent-lit classrooms. The pandemic is raging, the United States having a confirmed 5.7 million cases and 176,617 deaths. At the beginning of this horrid outbreak, every state closed down schools except for Montana and Wyoming. States had canceled the rest of the academic year as early as March 17. 
Forsyth County, Georgia was fortunate enough to give their students options. Students could opt for face-to-face schooling (with restrictions), completely virtual school, or hybrid schooling, an option that combines both virtual and face to face. While the CDC does stress the importance of reopening schools (as safely as possible), some parents and students are concerned with the potential risk of infection. 
Uncertainty looms even five months later, there is a more concise plan now. The virtual spring semester in early 2020 was handled as best as it possibly could have been. The school systems had to roll with the punches. Students felt as though school was less serious due to the Hold Harmless Policy, which did not penalize students during online learning. This semester, virtual school is serious and directly impacts students currently and their futures. So, what does life look like for a virtual student? Does the need for social interaction validify the need to be in a school environment?
Sara Mesihovic is a junior at Lambert High School who has enrolled in virtual learning. She spoke of her daily schedule that oddly does not stray far from the typical student's day at Lambert. 
Mesihovic and her family made the command decision to become a virtual student in hopes that it would lessen the chances of contracting COVID-19. She begins her day each morning at 7 a.m. She starts off the day by eating breakfast and exercising. Then she does work until noon and takes a lunch break. She continues her work and is done by 3:30 p.m.
"My daily routine is very similar to a normal day at school except being at home allows me to be flexible about when I do things. For example, if I wanted to I could take a nap during the day before swim practice and then finish my work up later," Mesihovic stated. 
Although her day is fairly normal, the only thing missing is the social aspect of school. 
"I miss seeing people every day at school and miss the everyday conversations so now I text people more often to just say hi and help keep the relationships made at school," Mesihovic says. 
The Forsyth County school system is ready for online schooling if necessary. Despite challenges due to lack of motivation, Mesihovic shows that full-time virtual is possible. Clearly, a preferred choice, the lack of social interaction, and face-to-face instruction are not necessary for good grades. All that is needed is a good work ethic. 
Leave a Comment
Donate to The Lambert Post
Your donation will help support The Lambert Post, Lambert High Schools student-run newspaper! Your contribution will allow us to purchase equipment and cover website hosting costs.