Bienvenidos a La República Dominicana
Lambert High School sophomore Anna Brook Hydrick spent the last week in the Dominican Republic, on a mission trip with Johns Creek Baptist Church. This was her second year returning to the DR.
She graciously shared some of her thoughts before she left to immerse herself in the town Villa Altagracia.
"Going into this trip, I am hoping to see familiar faces that I saw last year. I am hoping to just love on the kids and hang out with them, and hopefully teach them some English. I hope this year is just as special as it was last year. It has been something that I have really looked forward going back to because it was just an altogether awesome experience. I loved being there, being present, and serving The Lord. This year, I am apart of the English as a Second Language group. Last year, I was apart of the Vacation Bible School group. I am thinking ESL will be different from VBS in the fact that it will be more independent. We are more in charge of ourselves; it has to be more structured in a way because VBS was complete chaos. There is no way to control 40 five-year-olds in VBS. At ESL, since I will be at a school, it will be a more structured zone. It is a classroom environment, so I am hoping we will have fun, but more organized fun."
"I am not really anxious because I went last year and enjoyed every moment of the trip. This year, I am so purely joyful and excited because I have the opportunity to go back and see all of the kid's cute little faces. I am aiming to achieve meeting new friends over there and making an impact on the kids. They have abounding love in their hearts, and I just want to give and receive some of that love. I want to show them that they truly matter because a lot of them don't have great home lives. I want to share with them the love they deserve. They are amazing kids and the best people ever. Everybody there is so kind-hearted and I am excited to experience some of that love."
"Last year, most of the kids were not camera shy. My friends and I tried capturing how sincerely content everyone was. I can't wait to return and see some of these faces again."
Students that had been on the trip before shared some of their photographs that document their experience there.
After a week of working, teaching, and giving, Hydrick reflected on her week in the Dominican Republic.
On Monday, the ESL team set off for Martin Luther King Jr. School, after they dropped off the construction and VBS team at El Buen Pastor. Hydrick describes their first time walking through the gates of the school as lively. "When we got to the school, we would walk in and they would still be having class; however, it did not stop the kids from yelling "Americana" at all of us. The kids were cheering from their classrooms. We would set our bags down, and soon after, the bell would ring for recess. Teachers could not control their own students. They would run outside and flock around each person on the ESL team. It was the seven of us facing the entire school. We would jump rope, make up hand shakes, and have dance battles until it was time to go and teach a class. The school itself seems very laid back; the environment is chaotic but comfortable. Everybody appears to be friends with everybody."
"Going in, not knowing what to expect, was intimidating. Some of my friends that had done ESL the year before explained to me that we really do not know how much English the students will know. We also did not know which grade levels we would be teaching; in summary, we had to be prepared for anything the school wanted us to do. We taught three different classes, two 4th grade classes and one 6th grade class, in three different days. On the first day, we taught 4th grade.  It was exciting because they were so excited. It was a little rowdy, but they were so energetic and happy to participate. During class, the students did a word search and sang songs with me, and my team member, Morgan Giles. Verb charades was also a big hit."
"The second and third day at MLK was very similar to the first. The second day was my favorite because I had the opportunity to teach 6th grade. They were so responsive and very attentive; they genuinely wanted to learn and try to understand what we were saying. 6th grade also knew more English than 4th grade."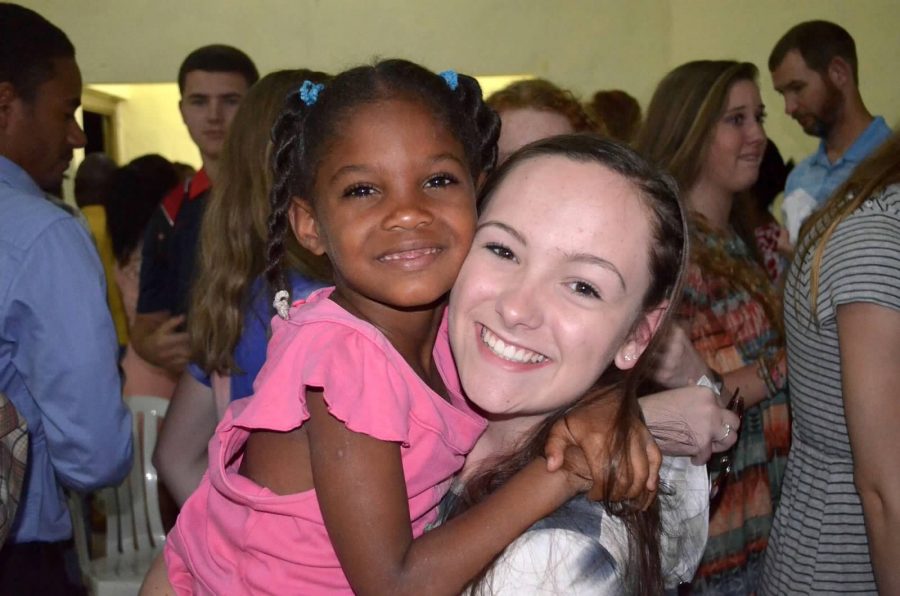 "Overall, my time at the school was amazing. I was able to make new friends and new connections with students my own age. Next year, I am definitely doing ESL again. I loved being connected with more kids. There were less people on the ESL team than on any other team. That being said, there were so many kids for all of us to build relationships with. VBS also achieved a lot this year! As a whole, it seemed more organized. I was able to see some of my friends that I made last year at VBS during lunch time, as our group returned to the church for lunch. Construction also helped by building a wall around the church. I have never seen that group work as diligently as the group did this year. My favorite part about the trip as a whole was being able to strengthen my relationships with almost everybody in the town."
Anna Brook with Ashley having a tickle fight at the church after lunch.
Emma Bryant
Students are distracted by the Johns Creek Baptist Church kids walking by their windows.Johns Creek Baptist Church's youth group has been returning to Villa Altagracia going on five years; the community has grown accustomed to them. The community has welcomed them into their customs and culture, which Hydrick describes as "an amazing thing to be a part of." Social barriers were broken on this trip, despite the language barrier. Hydrick is already counting down the days until her return next year.
Leave a Comment
Donate to The Lambert Post
Your donation will help support The Lambert Post, Lambert High Schools student-run newspaper! Your contribution will allow us to purchase equipment and cover website hosting costs.