(Mis)Printed: Lambert's Own Mini-Magazine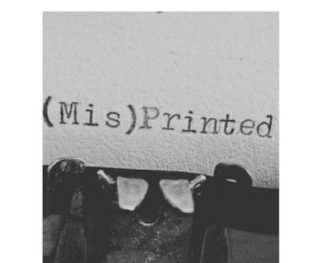 Sophomore Celina Simone has already made an impact at Lambert. Last year, as The Writer's Block Vice President, she jump-started a new subcommittee called the "(Mis)Printed."
"(Mis)Printed" is a mini magazine that showcases poems, flash-fiction, pop culture, anonymous student confessions and artwork created by their 16 staff members. 
"Zines have this history of first starting with a unique way to cut printer paper, and there was just sort of this emphasis to this scrapbook-iness (sic) that may be less professional but more artsy and fun," Simone said. 
Simone explained that "(Mis)Printed" was intended to increase staff members' interest in poetry. She is overjoyed to include more poetry pieces in the mini-magazine. 
Simone's mother was her main source of inspiration for this magazine. When she was in high school, she was involved in a mini-magazine for her school.
"When I was little, I found out that my mom, when she was in high school, was a part of like a zine, and I thought every high school had one, so when I came here I was disappointed that our school really didn't," Simone stated. 
Simone attributed the club's success to a program at the University of Iowa called "Between the Lines." Simone and The Writer's Block club president, Sophia Zhao participated in this two-week intensive writing program. The program gave Simone and Zhao the opportunity to ask the university for grant money. 
"I approached Sophia about using some grant money we had from Iowa for printing some issues that we had curated from our team, which we did, and luckily, we sold out," Simone explained. 
The club sold 50 copies at a $4 rate. Most of the funds went towards a club celebration.
One challenge that Simone faced through this process was the fear that no one would take her seriously. Since her freshman year, she has grown in her position and preaches that, as an editor, it is not her job to perfect the piece but to help present the message properly. 
Simone noticed Lambert's focus on the STEM fields. "(Mis)Printed" and Writer's Block was designed to restore opportunities for literary and art students.
For those interested in working on the "(Mis)Printed" staff, the application process is simple. Direct message the mini magazine account, @lhswritersblock, on Instagram, and join their GroupMe. 
Simone is especially proud of their diverse staff that reflects the ideals of The Writer's Block.  
"I come from a middle eastern background, and Sophia is Chinese American, and I think we both put an emphasis on diversity and creativity and less on the technical sense of writing," Simone explained.
Simone strongly believes that Lambert students should embrace their diversity and one of the best ways to do so is through literature. 
"We're lucky to go to a very diverse school and I think we need to celebrate that through literature," she said.
Donate to The Lambert Post
Your donation will help support The Lambert Post, Lambert High Schools student-run newspaper! Your contribution will allow us to purchase equipment and cover website hosting costs.