Barking our way to a good cause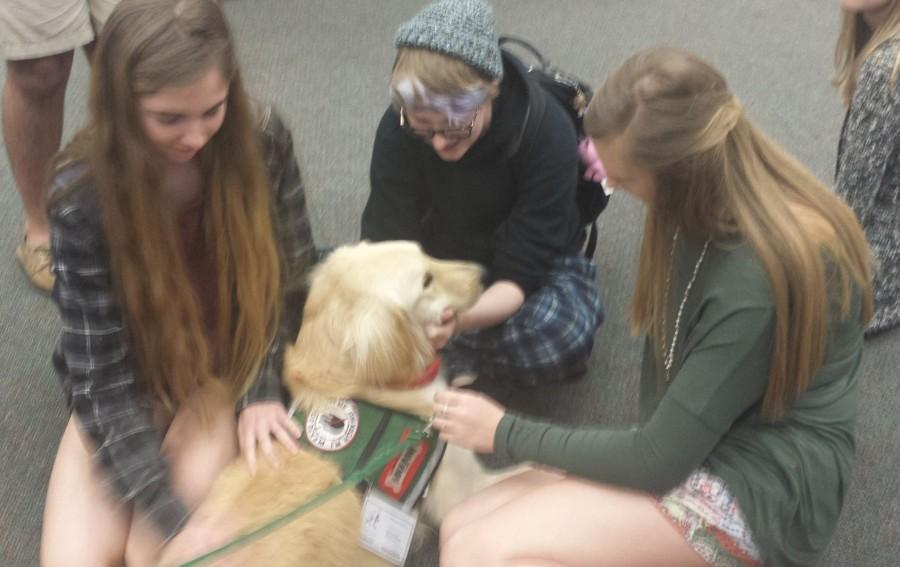 Lambert High School is currently addressing the often underestimated problem of stress by bringing in therapy dogs to work with those who desire help. The dogs are supplied by a non-profit organization called Canine Assistants, and their weekly visits have been making a noticeable impact on students and teachers alike. DECA member Belinda Zhang explains that the solution was an offset of a "Stress Free Awareness Week" project for a DECA competition. She expands on the topic, saying that "Because it was so successful, Mrs. Johnessee, our assistant administrator, [said] 'Why don't we bring in therapy dogs into this to add in to the stress free awareness week aspect of it?'" Canine Assistance was contacted, and every week since, their therapy dogs have been making an appearance every Friday in the school library.
The response from the students and staff has been incredible. "We brought in the dogs just to see how it would all work out with everyone, and since then we've had [so many] visits from them, and they come every Friday, and everyone loves them." The dogs and their supervisor will sit in a designated spot in the library awaiting the company of a patient to visit them, at which time they will offer their unconditional emotional support.
While they are currently only coming in on a weekly basis, the DECA club has future plans for Lambert to have their own dog that will be available to the students throughout the week for their assistance. "We're trying to get a dog permanently at Lambert for everyday use, like if people need to distress and like if they have a test coming up, they can come anytime and visit the dog."