​"The SpongeBob Musical" Review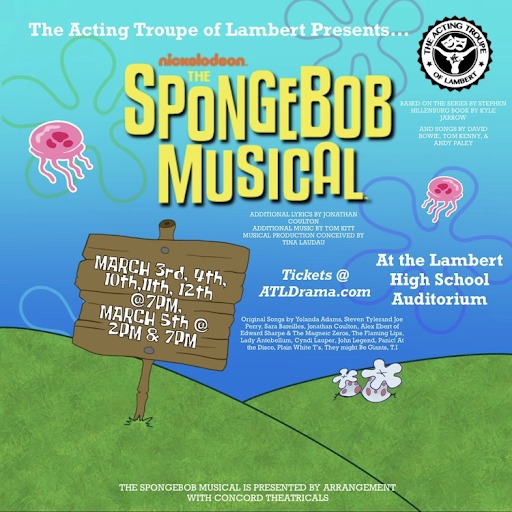 The show "The Spongebob Musical" put on by the Acting Troupe of Lambert is coming to Lambert High school from March 3rd-12th.
The musical is based on the hit series by Steven Hillenburg and features Spongebob and his friends in Bikini Bottom. The music to this show has many notable names involved, including David Bowie and even Panic! At the Disco. Madison Meinberg talks about just how fun this musical is.
"My favorite thing about this show is dancing in all the crazy and fun, upbeat numbers," Meinburg stated.
The show is about how all of Bikini Bottom is faced with extinction when a volcano is about to erupt. SpongeBob Squarepants has to stand up and fight for his town when all hope is lost.
When I went to the show, my expectations were very high because I loved the hit TV series "SpongeBob" when I was a child. I was not disappointed and I have many thoughts on the musical as a whole.
The costumes by Julianne Lopez were fantastic; they were so colorful and beautiful. They gave me the feeling of being in a bright tropical paradise. If someone asked me what made the SpongeBob musical so great, I would answer the costumes.
The acting was also exceptional! I could tell the actors put their all into the performance! Plankton, played by Mike Whelan, was the PERFECT villain; he had all the mannerisms of the evil character! Additionally, Pearl, played by Annie Kocerha, was probably one of the best high school singers I've ever heard live. She was absolutely amazing and deserves so much recognition for her role. 
However, while there were some technical issues, which is to be expected on opening night, the show was very well thought out. Despite that, one could see the musical was slightly immature. The plot could be a little childish for high schoolers. Amanda Pelay, a viewer, thought the same thing. 
"The maturity of the actors and their voices would have fit better in a different show, but it was executed well regardless," Amanda explained.
  Altogether, the time and effort that was put into "The SpongeBob Musical" really paid off. I recommend that everyone go see the musical! You can get tickets here
Leave a Comment
Donate to The Lambert Post
Your donation will help support The Lambert Post, Lambert High Schools student-run newspaper! Your contribution will allow us to purchase equipment and cover website hosting costs.