A review of Lambert's production of Grease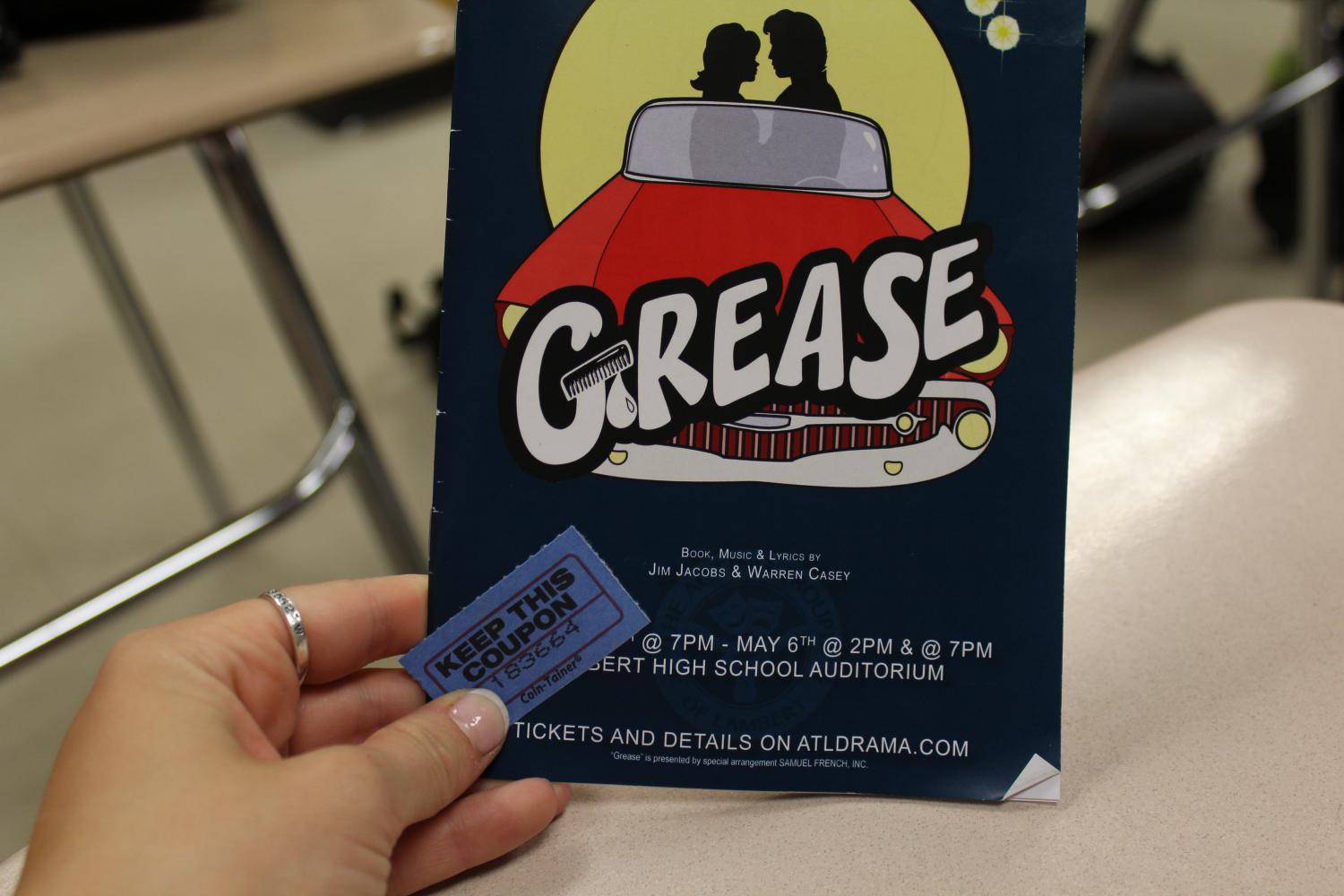 This past weekend, the Acting Troupe of Lambert, put on a production of Grease. The show ran from Thursday to Saturday, one each night at 7 and one at 2 on Saturday. The play was directed and choreographed by Carly Ann Berg and Ryan Wason.
The play starts out with all the high schoolers returning for their senior year. New student, Sandy Dumbrowski, is played by Dani Heslin, who injured her foot a week before the opening show. She managed to perform 3 out of the 4 shows in a boot. Assistant director, Alexandra Johnson, learned the role of Sandy in two days and performed at the 2 o'clock matinee show on Saturday. Sandy's summer love, Danny Zuko, is played by Dean McKenzie. His sidekicks, the T-birds, were played by Jared Guerrasio, Andy Harper, Cooper Mabry, and Chase Hague. They all gave a wonderful performance and portrayed the group perfectly.
One of the best parts of the show had to be the Pink Ladies. Liana Carrion played Betty Rizzo, and she played the role so well. There could have not been a better fit for the character because Carrion's look and voice matched the part spot on. Marty, played by Carlie Maze, and Frenchy, played by Elena Araoz, added so much to show. They each had beautiful voices and quirky personalities to match the parts. Sarah Kettler was amazing in the part of Jan. The audience was amused and impressed by Kettler's balancing of constantly eating while performing. Katie Crabtree played the part of Patty Simcox, a character with a huge personality. Katie's smile lit up the entire auditorium with this role.
The entire show was full of non-stop dancing. The entire cast was able to keep up and give it their all during these energy draining performances. Freshman, Caroline Cannizzaro, was the assistant choreographer who choreographed many parts of the dances herself because Ms. Berg was also directing Little Shop of Horrors that performed at the end of March. Cannizzaro did an absolute stunning job and what is more impressive is how young she is and how much room she has to grow.
There was never a dull moment, even during the intermission. Student Hana Feinstein played the hilarious role of Miss Lynch who had the audience in her hands. She had the best facial expressions and even improved part of the show. On Friday's show she had the whole audience stand up and say the pledge of allegiance. It was a fun way to have the audience participate and feel like they were all students at Rydell High.
All in all, this was definitely one of the best productions put on by the Acting Troupe of Lambert, and many students, teachers, parents, and many students of the community enjoyed watching the classic come to life.