National Blood Crisis
On January 1st, 2022, The Red Cross sounded the alarm about a national blood crisis. Stores of blood and platelets have hit their lowest in 10 years, putting patients across the nation at risk. Blood drives and donations have been at an all-time low due to the COVID-19 pandemic. 
Donated blood is used in almost all aspects of inpatient care at Hospitals. Surgeries, anemia and kidney diseases are common ailments that require blood transfusions to aid patients. 
Hospitals nationwide are feeling the effects of the blood shortage, including local hospitals such as Emory at Johns Creek and North Hospital Forsyth.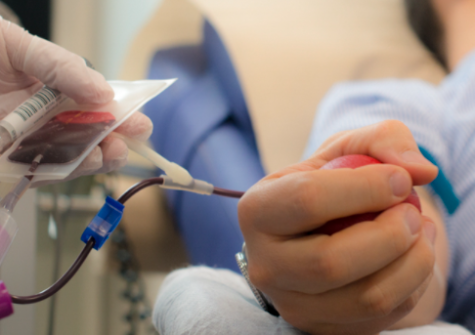 Lambert's Red Cross HOSA subcommittee has teamed up with the Red Cross to facilitate the annual Spring blood drive. On March 23rd, The blood drive will be held in the auxiliary gym. Students can sign up during 5th or 6th period by locating the HOSA table by the T. Students 16 years and under will require parental permission to donate. Not only will you be saving lives by donating, but you will also be scoring a 10$ e-gift card and the chance to win round trip tickets to an MLB game for two. 
"With our student drives we get a lot more [blood]," Pranav Batchu, head of the Red Cross subcommittee, states. "Usually community drives only have 20-30 people while student drives have 60-100 and above. This time we have 100 plus people registered." 
"You'd be surprised at how many students are eager to donate [who] just never got the chance," Batchu states. Holding blood drives at school provides an easy and convenient way for pupils to donate blood. It can be difficult for minors to go out of their way to donate blood. Bringing the blood drive to school, allows more students to donate. 
Not all students who sign up are allowed to donate. The Red Cross requires a screening before you're hooked up. If you don't meet said requirements, you will be turned away. During the fall blood drive last November, 55 out of 75 people were eligible to donate blood. With each donor giving about 1 pint of blood, HOSA and the Red Cross collected about 55 pints, or 31 liters, of the liquid gold. 
For students who are hesitant to donate, Batchu assures students they are in safe hands. He himself has donated previously and had this to say about the experience. 
"The people who help you there are extremely nice," Batchu says. "They are super nice and will accommodate you and will try to make you feel as comfortable as possible." Once you are done donating, the red cross allows you to rest before heading back to class. Volunteers will provide snacks and water to ensure you are dehydrated and full of nutrients. 
Batchu encourages students to donate, closing his interview stating, "There's a need for [blood] and it's really important [to donate] right now with everything going on in the world," Batchu relayed in his interview. "You just gotta help out as best as you can."
Leave a Comment
Donate to The Lambert Post
Your donation will help support The Lambert Post, Lambert High Schools student-run newspaper! Your contribution will allow us to purchase equipment and cover website hosting costs.