On Thin Ice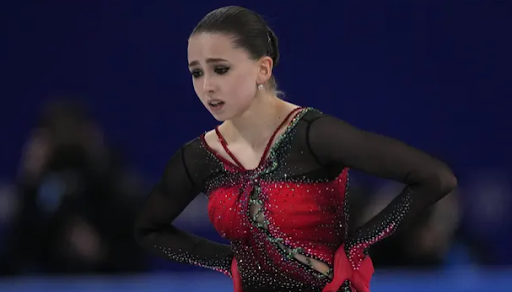 On December 15th, Russian Figure Skating prodigy, Kamila Valieva, submitted a routine doping test with other figure skaters. The 15-year-old athlete's doping test failed to return to the lab for over six weeks and after the beginning of the Beijing Olympics. The test came back positive for banned drugs, prohibiting her from participating in the Olympic games. However, in an unprecedented turn of events, officials have allowed Valieva to compete in the games but withhold her medals until her case is resolved. Her competitors will also not receive their medals. In addition, the Olympic committee has decided to withhold all awards in every event Valieva competes
This has proven to be a very embarrassing scandal for Russia as they are already under a multi-year ban due to a massive, state-funded doping scandal. All Russian athletes that wish to participate in the Olympics must do so under the Russian Olympic Committee (ROC) under the restrictions.
The unprecedented decision has outraged many in the figure skating community, stating that the honest athletes are unfairly suffering due to Valieva's continuation in the Olympics. 
Adam Rippon is a former Olympic skater and coach to Mariah Bell, a competitor at the Games"It's all just so unfair," Rippon said in a New York Times interview. He is a former Olympic skater and coach to Mariah Bell, a competitor at the Games."And now it's also so unfair to all of these ladies because their whole Olympic experience is now wrapped up in controversy because a country doesn't want to play by the damn rules." 
Rippon further relayed his anger in a series of tweets stating the ladies' event is "a complete joke" and "not a real competition."
On February 17th, The Women's Free Skate proceeded. Valieva was unable to place during the short skate program due to multiple falls. Valieva's failure to medal allowed for a podium celebration, as one wouldn't have taken place if she finished within the top-three because of her doping scandal. 
Upon arrival in Moscow, Valieva was greeted by cheering fans. While Russia is showing continued support for Valieva, the outrage from various other countries still hangs in the air after the entire scandal. Former Team USA figure skater, Kaitlyn Weaver said she's "not sure" she "bought" Valieva's excuse that she accidentally took her grandfather's heart medication in a CNN interview. Japanese figure skater, Kaori Sakamoto, who finished third in the short program, said during a press conference: "Do I feel sorry for her? I don't think so."
Leave a Comment
Donate to The Lambert Post
Your donation will help support The Lambert Post, Lambert High Schools student-run newspaper! Your contribution will allow us to purchase equipment and cover website hosting costs.