One Giant Leap for Womenkind
On July 20, 1967, Neil Armstrong and Buzz Aldrin were the first men to land on the moon. Now, Nasa is seeking to make the next footprints on the moon be women. This new program, the Artemis Missions, is a moon landing program made for women by women. The program is being led up by NASA's first-ever female launch director, Charlie Blackwell-Thompson. In approximately a year or so, Blackwell-Thompson will give the 'go' for launch for the first-ever Artemis moon rocket. The moon mission has three phases, Artemis I, Artemis II and Artemis III. The first mission will be an unmanned flight test to provide NASA with new information. This new Orion spacecraft is the most powerful rocket known to mankind as of today. It will be traveling 280,000 miles from Earth for a three-week mission, the longest time a rocket has been in space without docking at a space station to date.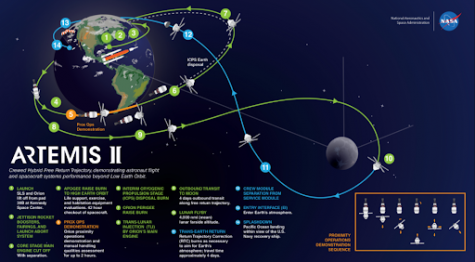 Artemis II will be the first mission with a crew aboard. The flight will take place in 2023, launching from NASA's Kennedy space center in Florida. The ship will go into deep space and orbit the earth twice. Its main objective is to test all flight systems while close to home in case of failure. During the Orion's orbits, the spacecraft will perform several movies that will allow it to gain enough speed to eventually push towards the moon. The crew will also perform basic tasks on the ship to simulate an actual flight. These tasks include testing the communications, navigation systems, generating breathable air, performing suit changes and moving through sleep and exercise patterns. 
The third and final mission, Artemis III, humanities return to the moon, still has many details that need to be worked out before launch. A date has not yet been set for the Artemis III launch as the first two test flights highly impact the successes of the actual mission. There are no confirmed astronauts who will be part of the Artemis II and III missions. There is a pool of 18 candidates, 9 men and 9 women, 6 of whom are test pilots, 4 have PhDs and 3 are medical doctors. Regardless of who out of the 18 are chosen, there is no doubt that a woman will have a chance to walk on the moon for the first time in history.
Leave a Comment
Donate to The Lambert Post
Your donation will help support The Lambert Post, Lambert High Schools student-run newspaper! Your contribution will allow us to purchase equipment and cover website hosting costs.