Teacher of the Year
The Teacher of the Year award is an opportunity for a teacher to be recognized for their hard work, dedication, and talent. At Lambert High School, the teachers all portray many traits that make them great. This year's recipient of the Teacher of the year award is Rachel VanDyke.
Ms. VanDyke is one of the Special education teachers at Lambert highschool. She is known to love her job and the kids that she works with. She has been teaching for three years and has grown to be more excited every day she gets to come to school. She was awarded Teacher of the Year in mid-September.
"It is truly an honor, I have only been teaching three years. That is the minimum amount of time that you can have to be awarded teacher of the year, so I was shocked. I had no clue what was going to happen. It was very cool," Ms. VanDyke said with a smile.
There was breakfast for all the teachers and staff to get together and celebrate all of those who received teacher of the month. She was awarded Teacher of the Year at the breakfast and she was celebrated by her staff and friends.
From a young age, Ms. VanDyke was inspired by individuals with autism. She enjoys advocating for her students and encouraging them every day.
"I started a non-profit when I was 8…so that was in 2003. It's called Special Twist. It is a nationally competitive cheerleading program for individuals with intellectual and developmental disabilities," she mentioned.
 The Special education program at Lambert is staffed with many great people that show dedication and love for their kids. Ms. VanDyke explained that many others contributed to this recognition.
"My entire support staff, I have three pair professionals who help support this classroom, and I kind of Co-teach with the other skills-based autism teacher. I definitely could not do my job without their support. I have also known Dr. Davison and Dr. Johnessee for a long time. They believed in me by giving me this job three years ago, so I wouldn't be here without them," Ms. VanDyke responded.
To receive this award as she said, a teacher has to have worked for three years at a minimum. The principal, Dr. Davison, and the Assistant Principal, Dr. Johnessee, have been very supportive to Ms. VanDyke along with the rest of Lambert's staff. A lot of thought and time is given by the staff, to decide who is the most deserving of this award. Ms. VanDyke portrays compassion and care as a teacher and a person. 
Ms. VanDyke and Ms. Stovall also came up with the idea of doing a mock trial with the kids in each of their classes. The idea of this project was so the student could have more insight into how the elections and voting works.
"We were talking about doing a mock election. We are teaching my students about what an election is. About voting and everything. Each of our kids will run for president. Ms. Stovall's students will help make the campaign. For my students, they would get up in front of the class and tell the class what is important to them," stated Ms. VanDyke.
Mrs. VanDyke is an inspiration to many. She was awarded Teacher of the Year, not only because of her love for this job, but also her love and dedication to her students and autism. She is a very successful and honorable person and is very deserving of this award.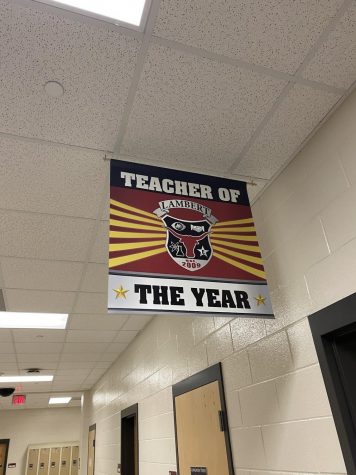 Leave a Comment
Donate to The Lambert Post
Your donation will help support The Lambert Post, Lambert High Schools student-run newspaper! Your contribution will allow us to purchase equipment and cover website hosting costs.