AP Dhillon's Intro to the 2023 Juno Awards and Backlash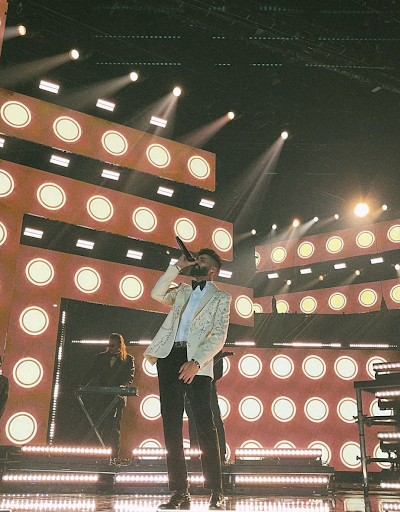 Dhillon was the first Punjabi singer ever to perform at the 2023 Juno Awards in Edmonton, Alberta. This is a step towards increasing inclusivity and bringing artists with exciting messages to inspire larger audiences. However, the 2023 Juno Awards also, unintentionally, included another inspiration — a topless female protester. 
Avril Lavigne, Canadian singer and songwriter, was interrupted by a protester as she introduced AP Dhillon. The protester was a topless lady who had the words, "Stop logging old growth NOW" and "Save the Greenbelt" written on her back. Land that was formerly protected has now been opened up for industrial use, which many are not happy about, hence the protester. 
The audience was surprised to see the protester on stage, but Avril Lavigne carried on introducing AP Dhillon as a "global sensation," with the protester later being escorted off the stage by security. Many fans were not happy with the protester and believed that the means she used to spread her ideology were flawed. Under a twitter post of the situation, one person commented, "This was so disrespectful and random at the same time."
Lambert junior Shruthi Rani believes that the protester was "sending the wrong message."
"I feel like there's better ways of going about it," Rani said. 
This interruption did not last more than 30 seconds, and as Avril Lavigne listed off AP Dhillon's achievements and accomplishments, she also mentioned that he's the first Punjabi artist to perform at the Juno awards. An immense number of songs from his albums have topped charts as well as some of his other famous singles. As he performed, the crowd was singing along and vibing to his hit single, "Summer High." The protester's actions were quickly overshadowed by Dhillon's performance.
Many also feel that with the introduction of AP Dhillon to a higher platform with a history of mostly western influences, the times are changing and making way for more diversity. Different artists of a variety of cultures are able to have greater spotlights and reach more fans, as well as spread knowledge about who they are. Dhillon's performance is the first of many.
"Personally, I think it's a bit delayed," Rani said. "We have been here for a while, but I think it's a great stepping stone."
Although fans were happy that their idol was on stage, they weren't thrilled with how Dhillon was using his platform. Currently, the Punjabi and Sikh communities are dealing with a crisis in India. Many feel the Indian government is stripping Punjab of its culture as Punjab has been deindustrialized, and citizens find themselves having to constantly advocate for their rights through protests. The internet in Punjab has been shut off, and the situation continues to worsen.
In the comments of AP Dhillon's Instagram post about performing at the Juno Awards, many fans asked why he was not using his account to spread awareness about Punjab's crisis. Multiple comments also mention boycotting his music because he has yet to comment on the situation. 
"I still think he does not have an obligation to talk about this," Rani said. "However, not talking about it at all… doesn't seem very sensitive about what's going on with other fellow Punjabis."
This backlash is to be expected, as there are an enormous amount of posts about Punjab all over Instagram. However, it could also be a case of bad timing. There are many things happening all over the world, and it probably was not AP Dhillon's fault that the awards and crisis overlapped. 
Nevertheless, thousands of fans enjoyed the performance, and look forward to more. As time goes on, there will be more opportunities for awards shows to become increasingly inclusive and cater to peoples' desires to expand their cultural knowledge. Hopefully, events such as the protester's eye-catching display won't continue to interrupt these artists' time to shine in the spotlight.
Donate to The Lambert Post
Your donation will help support The Lambert Post, Lambert High Schools student-run newspaper! Your contribution will allow us to purchase equipment and cover website hosting costs.