Media Bias In the World of Women's Basketball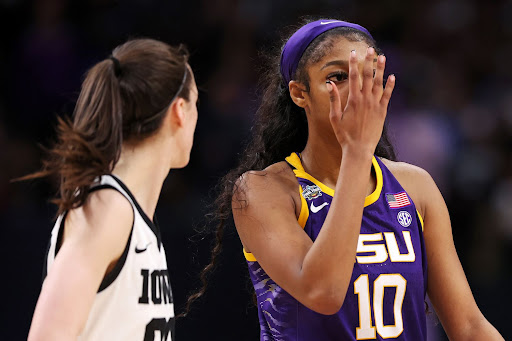 The world of women's basketball has recently exploded thanks to a simple hand gesture that brought two players, Angel Reese and Caitlin Clark, into the national spotlight. For those who may have missed it, during a regular season game between the University of Iowa and Louisiana State University, Caitlin Clark used John Cena's popular "you can't see me" gesture in an effort to intimidate her opponent. Angel Reese also made the same motion to Clark following LSU's victory in the championship game. Although Clark, a white athlete, was praised for doing this gesture, Reese, who is black, was dubbed "classless" and "unsportsmanlike" by the media. 
Recently, Dr. Jill Biden expressed her intent to invite the Iowa team to the White House (along with the winning team LSU) following their loss, a gesture that has never before been extended to a losing team in the history of White House celebrations. Interestingly, the day following the LSU vs. Iowa game, the majority-Black men's basketball team from San Diego State lost to UConn in the men's NCAA tournament but did not receive this same invitation. Many feel this has exposed the inequities in the way athletes are recognized, leading to questions about the motives behind it. The extended invitation is not only unfair to LSU, but it puts Iowa in the middle of a polarizing discourse on racial injustice.
"It's pretty clear that Iowa getting invited to the White House is just another example of how we overvalue some athletes and undervalue others," said Lambert student and NCAA basketball fan Apple Choi.
When it comes to athletic banter, there is hypocrisy in regards to how male and female players are judged, as evidenced by the media's criticism of Reese. It is interesting to note how NBA players are celebrated for their competitive trash-talking, while female players are often criticized for doing the same thing. In this case, there was an overt double standard placed on the fact that Reese is a black woman who did the same gesture as her white counterpart, but was teared apart for it while Clark was praised. 
Choi further expressed her comments on this injustice.
"It's not just about this one game, it's about a larger pattern of how black athletes are treated versus white athletes, and female [athletes] versus male…the passion and intensity between players is what makes it fun to watch and it's unfair to just take that away," Choi said.
 In the end, basketball is a sport of competition, and it should be celebrated as such. Women's basketball has a promising future, and individuals like Reese and Clark will definitely continue to raise the bar for female athletics.
Donate to The Lambert Post
Your donation will help support The Lambert Post, Lambert High Schools student-run newspaper! Your contribution will allow us to purchase equipment and cover website hosting costs.