Opinions In The Classroom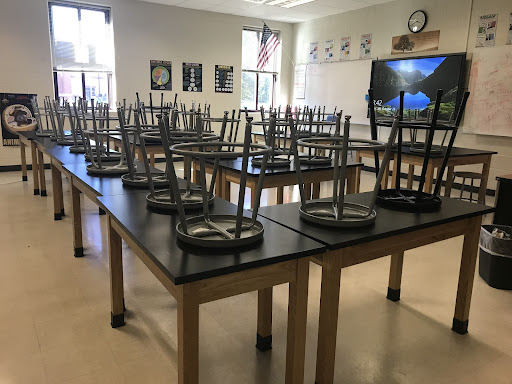 I like to think of school as a big family because we, staff and students, see and interact with each other a great amount. There are so many similarities between a family and an entire school.
In the classroom, people you don't really talk to or know are like your distant relatives. Your friends are like your siblings or your favorite cousins, and the people you really don't like are those judgemental or rude family members. 
But who are the teachers?
For some, they are almost parental figures. Others have teachers who are like fun, wise grandparents. Then there are some teachers who are the stereotypical drunk uncle at the table, who says random nonsensical things that you just nod to.
In all your years of schooling, who do you think teachers should be? Would you include them in my school/family analogy? Where do you think their role should end? 
I know that some teachers extend their teacher role; they teach beyond or veer off the curriculum by sharing their own stances on certain topics. 
To hear what some people thought about teachers sharing their opinions in the classroom, I conducted a few interviews. 
"If you are learning about something, it is good to hear all sides of the argument," Freshman Tanmay Danturti commented. "As long as the opinion is not completely random, off-topic or derogatory then it is fine because an opinion is something everyone needs."
Tanmay also expressed to me that he likes when opinions are shared in a classroom. He expressed that when opinions are presented, the classroom is more fun and the day becomes interesting.
In my interview with Junior Aditya Sriram, he said that teachers should play the roles of messengers of the curriculum. I then asked him to elaborate on this role,
"Teachers should ask questions and make sure their students are engaged with the conversation," Aditya described. 
When it came to teachers sharing their views and opinions in the classroom, Aditya had some views and opinions of his own. 
Aditya emphasized that opinions should not be shared, but if they are, they should be presented as such. 
"I guess it's okay to share your opinions, but not in a way that you are influencing what the students think," Aditya said."Teachers should present their opinion with evidence and show the big picture. What some teachers do is share their opinion then only provide facts that support theirs without properly showing the other side and that can lead to misinformation."
Even though Tanmay and Aditya differed in their opinion of whether or not opinions should be shared in a classroom, they both had mentioned to me that there should be an open discussion about controversial topics.
However, sometimes, an open discussion is not an option.
"If you say too much you can get in trouble..there is this power dynamic…you have to be on their good side, " Senior Janey Joseprabu said.
I definitely understood what Janey stated. 
I believe that if a teacher wants to have a classroom environment that is filled with opinions being shared, then they should make the classroom environment comfortable enough for students to express their own opinions.
Something else Janey talked about is that when opinions or stories are shared, teachers should simply not cross a line. 
But what is that line?
In my opinion, a rule that every teacher should follow out of respect for their students and themselves is to not say anything derogatory, unprofessional, offensive or feed lies to their students.
It is up to teachers to make a comfortable classroom environment that openly welcomes differing opinions and group discussions. 
So after these interviews, I have come to the conclusion that teachers are a mix of all familial roles. Some fit into the categories above, but all should have the traits of respect and boundaries within relative roles.
Leave a Comment
Donate to The Lambert Post
Your donation will help support The Lambert Post, Lambert High Schools student-run newspaper! Your contribution will allow us to purchase equipment and cover website hosting costs.