Coachella Increases Diversity in 2023 Line-Up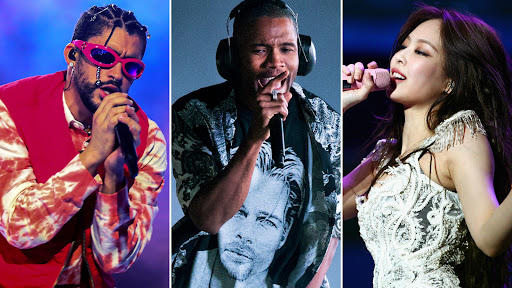 Throughout years of the Coachella Festival, it is clear that more diversity has been incorporated among artist selections to perform. For every year since the event's debut, the festival planners have taken diversity up a notch. They recently revealed that, for the first time, all three headliners – BLACKPINK, Bad Bunny, and Frank Ocean – are artists from different backgrounds.
Is it unexpected? Not really, but it certainly is a pleasant surprise that 2023 is the year we can welcome this diversity and representation. Lambert freshman Elaina Kondepudi agrees that representation in the music industry is incredibly important.
"It is surprising that all headliners at Coachella are all people of color, because just a few years ago it was mainly white artists performing," Kondepudi said. 
Additionally, the festival's planners introduced more international artists as well, including Punjabi singer and actor Diljit Dosanjh, Nigerian singer and producer Burna Boy and a great number of Latin groups and singers. 
These diverse artists took over music streaming platforms by topping multiple music charts while simultaneously representing and sharing a piece of their culture with the world. This incorporation of diversity, inclusivity and representation has been a much needed addition to popular music festivals.
Students at Lambert High School have been talking about this diverse lineup ever since it was released on the Coachella Instagram account on January 10th. Many have appreciated and praised the planners for incorporating more inclusivity and representativeness as the festival grows larger each year.

"It allows for more people being involved whether it be business, cinema…," Kondepudi said. "People love being represented so to see these things will make people wanna do more things."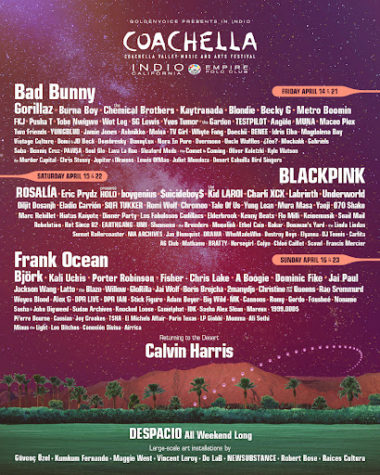 The opportunity provided to international artists helps them share their culture and create space for their fans that can be inclusive and understanding. The representation that these artists provide for their fans is something that many are looking forward to. It also introduces their diverse music to those who do not know about them or their art. 
"I will sing my Punjabi number for them, like always." Diljit Dosanjh told Hindustan Times.  We also listen to songs whose language we don't understand. It's about the sounds and today we all know that sound has no barriers, courtesy the internet and social media,"
Kondepudi is also a BLACKPINK fan and is looking forward to seeing their performance.
"Yes, I am very excited for Blackpink," Kondepudi said. "They were the first Korean artists to perform on such a big platform, and to think they're coming back to perform is a big deal."
This year, all eyes will be on Coachella's massive platform, so it's important that they make it worthwhile. The fact that organizers are taking the initiative to continuously evolve and enhance the festival experience for all races, classes and disabilities is awe-inspiring. They have now given a greater opportunity for people to be able to share their culture with more of the world. It is about time we as students and staff at Lambert High School tell each other about what it means to have a space that constantly strives for diversity and inclusivity among art and music.
Donate to The Lambert Post
Your donation will help support The Lambert Post, Lambert High Schools student-run newspaper! Your contribution will allow us to purchase equipment and cover website hosting costs.