"808s and Heartbreak" Analysis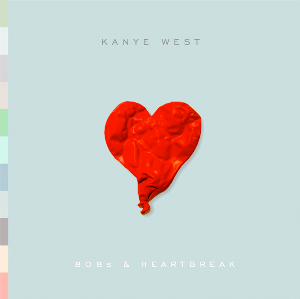 Out of Kanye West's 12 albums and projects, "808s and Heartbreak" is probably his most influential album. This album made an impact on West's listeners from its production to its release. 808s was seminal in the sense that Kanye was at a point where he was comfortable talking about his feelings and used his past emotional experiences to enhance the album. His creativity has always been a change of pace and inspires so many other artists. The artist has been very outward on topics regarding mental health and hasn't been shy to share his experiences with depression and bipolar disorder. Throughout the album, Kanye West shares the emotional torment he went through and put it into the form of music.
Kanye's album was a synthesis of emotions that were rooted in past life experiences and existing mental health problems. The artist seems to have been on a self-discovery journey for the majority of his career and it's reflected in his eclectic style. West went through two defining experiences which acted as a catalyst for this album; the passing of his mother, Donda West, in November of 2007 and his break up with his 6-year girlfriend, Alexis Phifer. Through the 12- track album, listeners can almost directly feel the pain of the artist. 
The album's tone is raw, yet very airtight. Rolling Stones' writer, Charles Holmes, wrote that the album is "mature and minimal, yet deceptively complex." The album flows completely naturally, considering that it took about three weeks to complete. The tones are bare yet expressive. Even the simple artwork acts as a statement of simplicity, but the underlying messages in the lyrics are unmistakable.
Kanye couldn't have pulled off his album by himself, even with his perfectionist mindset that strives for acuity and ecocentrism. One of his oldest writing partners, Malik Yusef, was a major part of the process. They butted heads a lot in the process, and Yusef ended up getting kicked off the label a couple of times in the process of the album's production as a result of their quarrels. While their ardent exchanges seemed very destructive and divisive, they yielded an album that was bursting at the seams with passion and emotion. Their differing views on heartbreak enhanced the validity and effect of "808s and Heartbreak."
Kanye worked with many different artists, like Kid Cudi and Mr. Hudson, in order to create just the album he envisioned. Kid Cudi was an art school drop-out and his style complimented Kanye's in a lot of ways. They have worked together on many projects and songs; namely, their joint album, Kids See Ghosts. His influential additions to "808s and Heartbreak" gave him a following which allowed him to start his own music career. Throughout the album, Kanye incorporates a robotic voice to incite feelings of isolation and separation. The isolated feelings from the album exemplified Kanye's lonely battle with depression and loss which were widely portrayed in the media. He contemplated taking a break for his mental health but decided that the only way is through. He reached into the depths of his soul in order to understand his feelings and hopefully allow others to understand what he was going through.
For the majority of Kanye West's career, he's made himself known as a trendsetter who pushes borders and seeks to expand his range. While his endeavors have been worthy, the majority of his impact resulted from his vulnerability and letting his guard down. 
The album managed to be completely clean and non-explicit. Whether this was intentionally done as a statement or not is unknown, but it definitely made the album more appealing to a wider audience. It was an impressive feat, considering the artists featured on the album, like Lil Wayne.
Kanye's presence in the music industry and media does not lack controversy, but it would be virtually impossible to deny his significant developments. His style is eclectic, experimental, and unpredictable and continues to break boundaries. Over a decade has passed since the release of "808s and Heartbreak," and its influence on the music industry is still irrevocable. West's fearless ventures and creativity continue to inspire developing artists.
Leave a Comment
Donate to The Lambert Post
Your donation will help support The Lambert Post, Lambert High Schools student-run newspaper! Your contribution will allow us to purchase equipment and cover website hosting costs.