Kicking Off Lambert Football With Coach Watson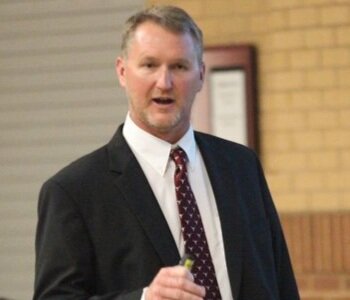 These past few months of hard work from the Lambert Football Program have been leading up to tonight's game against Campbell High School. Getting back to work has looked different for everyone recently, but in Lambert's case, it looks like lots of high spirits and resilience. With a new season ahead and a new addition to the staff, Coach Tommy Watson, Lambert's got the recipe for success this season. 
Coach Watson has had an extensive career packed with various football related accolades. One of which includes being a top offensive lineman in the SEC while playing for Mississippi State University. He is a firm believer in physicality and plans to implement that into Lambert's program. 
Watson said, "We believe in the weight room, that everything you do in there translates to the field… Everything we did, we were in attack mode."
 Watson also mentioned how, at first, the players were not accustomed to his way of training. 
"It's not where I want it, but it's way better than it was when we first took over," Coach Watson explained.
 The football team has shown resilience and improvement during these uncertain times. Every great leader has a source of inspiration. For Coach Watson, it's his high school offensive coach, Doug Mills. 
"He taught me a lot about physicality and being tough, and fighting through injuries, and coming to work every day," Watson explained.
 While Mills taught him more about the field, Watson's Mississippi State coach, Jackie Sheryl, taught him more about life in general. Watson emphasized how he and Sheryl's relationship went beyond the football field; it extended to a father-son relationship. Their bond heavily impacted Coach Watson's approach with the Longhorns. 
"In four years, if one of our boys is not a better man because he's been in our program, then I have failed him. We want them to be great husbands, fathers, citizens, and employees," Watson expressed. 
It's beyond football at Lambert.
"First off they're very hungry to win," Coach Watson said. He mentioned how the senior class has won six times in the past four years and wants nothing more than the satisfaction of coming out on top. "They're the hardest-working," he explained. The classes of 22' and 23' are no exception, "The juniors and sophomores are super talented," said Watson. His objective for this season is to, "win every football game we play." He admitted that although it's ambitious, he also believes it's attainable. Lambert's head coach's visions for the team don't stop on the field. Coach Watson's ultimate goal for Lambert's Football Program is, "to turn boys into young men." 
A big question is how high school football, specifically Lambert's program, is adapting to the adversities relative to COVID. Watson explained how his first day at Lambert was set for March 16, but Forsyth County Schools closed their doors because of the pandemic. He added that, currently, Lambert's football team has twelve people quarantined. Two of which were starters, and unfortunately can't play in Friday's game against Campbell, but that's not stopping the Longhorns.
"You just don't know who's going to sit by the wrong person in a classroom closer than six feet and then have to quarantine… that's a challenge" Coach Watson explained. 
Even with these new adjustments, the team continues to persevere and aims to make this season a season to remember starting with tonight's game.
Leave a Comment
Donate to The Lambert Post
Your donation will help support The Lambert Post, Lambert High Schools student-run newspaper! Your contribution will allow us to purchase equipment and cover website hosting costs.