Football Team Expectations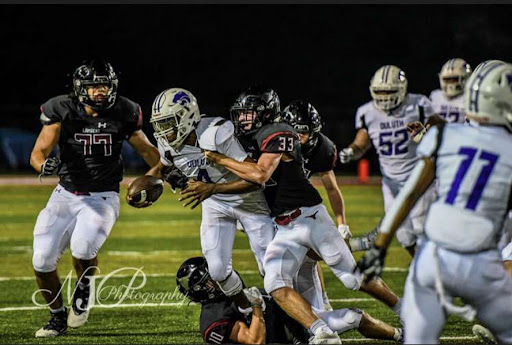 This year, Lambert Football has taken the bull, or "Longhorn," by the horns. 
With the current record being 5 wins and 1 loss this year, the Longhorns are putting the pedal to the medal. After sitting down with assistant coach Jacob Boldin, recruiting coordinator for the horns, expectations and goals have been clearly set this year. A new focus has been put on individual importance and how it benefits the team as a whole. 
"And you know, it takes everyone in a football organization to be successful," Boldin says. " From the coaches to the players to everything, everyone's got to be on the same page and execute." 
Everyone needs to play their part in order for the team to do their best. Varsity linemen Joseph Tripp adds to the importance by discussing his personal goals for the season as well as the goals he has for the team. 
"Personally, this year I challenged myself to step up and be a leader on the field and off the field, like in the weight room," Tripp says. " As a team, we need to be more vocal and we need leaders. Like Coach Watson always says, 'elite teams are player led' and that's something we struggled with last year." 
This year, the players have also utilized the weightroom more, and the benefits are showing both on and off the field. 
"We do everything that we can in the weightroom with our different stretches or different mobility," Boldin says. " I mean, we really do attack the weightroom in a way to protect  kids." 
Coaches are pushing the players to use the weightroom to help prevent injuries and help make them the best version of themselves. This is helping the players connect to one another, as well as spending time with each other outside of football. 
"Our varsity team, we've had a couple of team bondings where we just get together and go over to someone's house, and it's all of us and we all just hang out and have a good time," Tripp explains. "I feel that it's like going to war with your brother, it's like if you're not close with the person next to you and you just go in a dog fight, you're not gonna wanna fight for them and if you're fighting for yourself you're not gonna win. You gotta fight for your team." 
This mentality is helping our Longhorns become stronger and better than ever. These changes in mentality will continue to help the team improve and do even better than before. Hook em' horns! 
Leave a Comment